a Workbook on Cross-Cultural Marriage by Janet Fraser-Smith
This Workbook is designed to help you describe yourself and to broaden your understanding about how individuals from differing backgrounds approach life.  This book will assist in answering the questions :
Is this person right for me ?
In the knowledge of a wise choice in the will of God and, later perhaps,
How can we enrich our marriage ?
Love Across Latitudes assumes that a solid marriage is important for the couple and their children, for their families and for the fabric of society. It also assumes that agreement on the expression of both cultural heritages is essential from the beginning of the marriage if it is to last and fulfil both partners.
Janet Fraser-Smith says :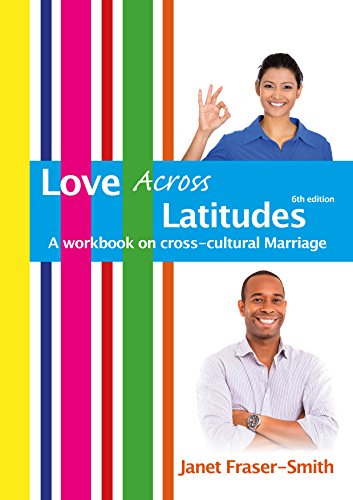 "My prayer is that this workbook will encourage an awareness of the potential richness of a cross-cultural marriage, of the challenges of listening, understanding and loving and of the immensity of the decision in choosing such a relationship.  Such marriages are pictures of the Incarnation !  I hope that it will be useful to those contemplating a cross-cultural marriage, to couples already married and to those who are involved in counselling such couples, whether alone or in groups."
More about the contents
Part One : Getting to know each other : the book underlines that successful cross-cultural marriage is based on a reasonalble knowledge and enjoyment of each other's personality, family and culture, and as well as deep agreement on spiritual issues.
Part Two : Growing together : the couple will be able to improve their relationship after marriage if they continue to get to know each other, and if they are able to communicate, not only on issues surrounding the everyday decisions they will inevitably have to make, but also in the resolution of conflict.
Part Three : Christian considerations is directed to the particular situation of the overseas missionary.
The workbook is available on Amazon Kindle and as Paperback.